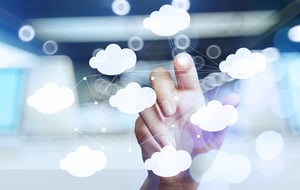 Companies of various industries turn to cloud computing technologies for their information technology needs. With these hosted Internet services, businesses can use computing resources without having servers, networks, software and storage systems physically present at the building location. Relying on these virtual services allows a business to better scale its employees' workloads based on their immediate and future operations.
When you are looking at cloud computing solutions, you must decide on the types of services that will best fit your workload, how you want to interact with the offered technology, and how to maintain security of company data. Let's check out the 5 elements that define cloud computing services.
Cloud Computing Service Elements
Cloud computing has changed over the years. What was once just three service categories has now expanded to many more defined models to fit the varying needs of businesses. Yet each service still provides the same basic characteristics:
Provides applications, application development, networks, IT services, or even virtual desktop infrastructures through third-party vendors as a paid service
Allows you to select how much you pay for the subscription-based service through competing providers
Offers scalability as you decide on the length of time you want the service as you can add on additional services or scale back solutions based on changing operations
Basic service types include:
Infrastructure as a Service (IaaS)
IaaS involves a third-party vendor that hosts software, hardware, networks and storage resources that are accessed virtually by customers over the Internet. These computing resources can replace your data center or complement existing IT infrastructure systems.
Software as a Service (SaaS)
SaaS consists of a software model where the third-party vendor hosts applications and software that is available with a subscription-based fee. The entire SaaS service may be web-based, or certain elements must be downloaded to the computer to provide more robust functionality.
Platform as a Service (PaaS)
PaaS offers application development tools that are hosted by third-party vendors. The software development tools may be accessed through web portals, APIs or gateway software so you can develop customized software or test application updates.
Desktop as a Service (DaaS)
DaaS is a cloud computing offering where the third-party vendor manages and deploys the virtual desktop infrastructure (VDI) that is streamed over the network server to customers. It's an advantage to many companies who rely on mobile workstations where employees need to access applications in different locations or varying computing machines.
IT as a Service (ITaaS)
ITaaS allows you to obtain the right amount of software, hardware and support services through a third-party vendor over the cloud. IT strategies and technologies can be better controlled without the large upfront costs of hosting all IT elements in your in-house data center.
The cloud computing opportunities are numerous for companies of all sizes.To figure out what types of applications, infrastructures and IT environments are suitable for your operations, turn to ATSI.We can help you figure out which cloud computing options will work with your operations.
Contact ATSI today to learn more about the top cloud computing providers available based on the technologies you need.