For many businesses, growth is a desirable, yet challenging, goal to achieve. Not simply in terms of acquiring and retaining staff and customers, but also when it comes to researching and investing in the tools that support that growth. Potholes and pain points appear: To accommodate more clients, you need to invest in more powerful business applications and tools. To maintain profitability, you need both cutting-edge programs and high-quality talent – often on a shoestring budget.
Why Cloud Communications?
Enter cloud technology. This resource has enabled organizations to expand without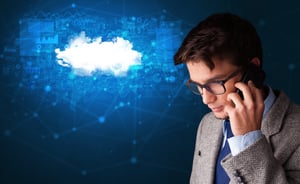 having to make costly up front investments and instead receive technology as a service. One of the benefits of cloud technology are cloud phone systems, which offer a host of benefits including cost savings, application integration, employee mobility, scalability and more.
Are You Ready To Make The Switch?
Considering switching systems, but not sure if it's the right time? If you recognize one or more of these signs, it is.
All of your IT resources are focused on core business initiatives – and not much else.
Many small businesses don't have the ability to allow their IT staff focus primarily on managing a phone system. The cloud can relieve your team of that burden. Instead, the job of maintaining and updating the system falls to the provider. There's no need to hire or develop the expertise in-house, and your IT team can shed one of its hats, freeing up time to be spent on more essential business initiatives.
You've moved other time consuming business applications – like customer relationship management – to the cloud.
2019 was the year of transitioning to the cloud; 60% of workloads were cloud hosted. If you've already rolled out customer relationship management and ERP to a cloud based service, you can increase the value of your investments by integrating these applications with a cloud phone system. A unified communications platform will increase productivity. And with immediate access to customer data, employees can enhance the client experience.
Your employees are never in the office.
This year's anticipated growth in a remote workforce was catapulted by the unforeseen pandemic. Many are still adapting and looking for solutions for seamless integrations of business applications and collaborations. When productivity begins to break down, it's a good sign it's time to upgrade.
Your organization is growing quickly.
Managing growth can be one of the most difficult challenges businesses face. You want to take advantage of emerging opportunities, but also need the right people and tools to keep pace. On top of that, flexibility is critical. You don't want today's decisions to be out of date next month With a cloud phone system, you can easily add phone systems to new branch offices, while taking advantage of features and capabilities as you need them – with minimal disruption.
Budgets are tight – and costs need to be managed.
To keep your business growing, your CFO needs a clear understanding of future costs. It's the smart way to guide business. But all of the situations we've mentioned here can easily upend the budget. If your spending plans have little flexibility, adding some certainty will help. This highlights the importance of two cost advantages that come with moving your phone system to the cloud: A relatively small financial impact in the first year and subscription pricing that introduces predictability.
If any of these points feel familiar, it's a good indication that the time has come to upgrade to a new cloud phone system. If you're still undecided – or if you're tempted to put it off a little longer – consider this: Your competitors may be feeling these pain points, too. Moving quickly could help you be more competitive, and that's a sign worth heeding.
At ATSI Business Communication Systems we work diligently to understand your business and how your phone systems impact the productivity of your staff. Contact us today to see how we can help bring the latest technology to you.